Welcome to Black Rock Balustrades
Black Rock Balustrades specialises in the supply and installation of Vertical Wire and Glass Balustrades and Pool Fences.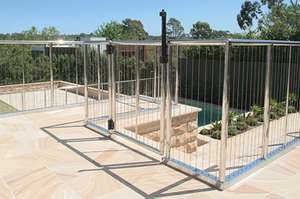 All balustrades and fences are made exclusively from Balustrades International components.
Patented design system
High quality components
Marine Grade Stainless Steels (316 grade)
Unique design options
No matter whether you live near the sea or inland, the quality materials will give you a lifetime of low maintenance and enjoyment.
Vertical Wire Balustrades
Only safe wire balustrade and fence design.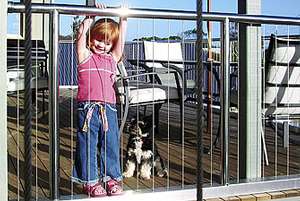 Vertical wire fences are the only safe wire barrier system that can be used around swimming pools. 
Vertical wire balustrades give you peace of mind with young children, as the vertical wires cannot be climbed like the horizontal wire systems in common use.
Pool fencing - 1200mm high
Balustrades - 1000mm high
Stairs - 865mm high
Unique wire tensioning system that does not loose tension
No unsightly tensioners and fittings
No sagging wires
Timber top rail option
Stainless Steel and Glass
Unique glass sizing system allows most installations to be completed with glass panels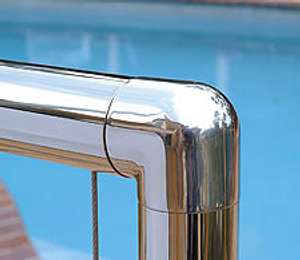 out of stock.
Patented technology is cost effective, consisting of all smooth surfaces, with no visible bolts, screws or tensioners, safe and easy to maintain.
Pool fencing - 1200mm high
Balustrades - 1000mm high
No silicone or glazing channels required
Full height glass – Ideal as a wind barrier
Glass fixed at floor level and top rail, no clamps